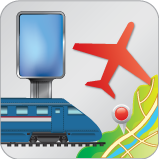 Transportation
X-Factor makes it easy to distribute dynamic, entertaining and convenient information to travelers in airports, train stations, metros, and more.
There are myriad applications in stations - and in the trains and buses themselves, including interactive kiosks (enabling people to make reservations, check schedules, print tickets, and take advantage of special offers) - synchronized with mobile applications.
The digital interactive networks transportation providers develop, can be paid for through internal efficiencies, customer satisfaction increasing ridership and advertising revenues featuring national and local brands, localized down to the specific train stations in cities and suburbs.
X-Factor's solution includes integration with existing applications (schedules and alerts) and includes advisory and emergency broadcasting capabilities helpful in the event of bad weather, station closures, rerouting of trains or buses and more.
X-Factor's dmcp:// platform also allows for the easy integration of streaming television and advertising content that can be enjoyed by riders using mobile phones.
In addition, transportation facilities operators can generate new revenues by offering advertising space inside heavily trafficked venues, for national brands or the shops, bars, restaurants and attractions in the station or nearby.