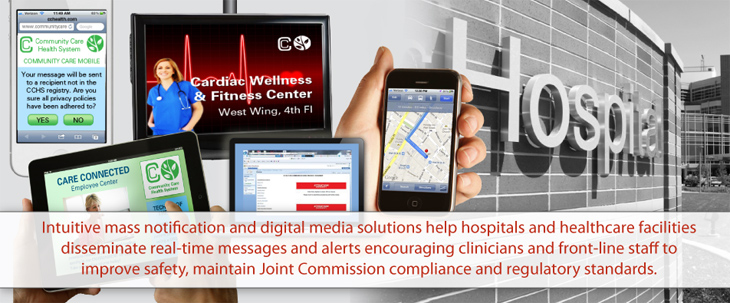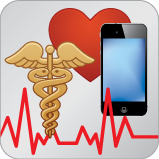 Healthcare
X-Factor's intuitive mass notification and digital media solutions help hospitals and healthcare facilities disseminate real-time messages and alerts encouraging clinicians and front-line staff to improve safety, operational efficiency, maintain Joint Commission compliance and regulatory standards. Our digital signage and interactive kiosk offerings can enhance the patient experience by providing wayfinding guiding patients and visitors through the largest and most complex campuses.
Powerful Content Creation, Management & Distribution Platform
Healthcare is a story of change. An industry now engulfed in technology and in the midst of an unprecedented transformation. With government mandates for electronic records, demanding compliance requirements, a never ending quest for improved patient care, and the need for operational excellence, the ability to deliver the right information, to the right audience, at the right time has never been more essential.
Any Content. Any Device. Anywhere.
X-Factor's easy-to-use flagship application, Digital Screen Control Portal (DSCP://), delivers single point publishing capabilities for business metrics, clinical dashboards, interactive informational content, rich media, and much more. This powerful platform, built on HTML5, can create and deliver "any content" quickly and easily on "any device" including mobile phones, tablets, smart phones, SharePoint, desktops, kiosks, digital signs, intranet sites and telephones "anywhere".
Improving the Patient Experience
X-Factor's digital medial solutions can decrease confusion by providing wayfinding including maps that can be sent to mobile phones or printed at the kiosks, guiding patients and visitors through even the largest and most complex campuses. The company's digital media solutions can quickly and easily help healthcare organizations enhance the patient and visitor experience in the following ways:
Building information and directories
Welcome and greet patients, visitors and staff
Promote hospital, physician and surgeon specialties
Differentiate your medical facility
Extend content directly into patient's rooms and on their mobile devises
Broadcast weather, news headlines, sports and traffic reports
Recognize generosity of donors and encourage community giving
Reinforce Hand Hygiene and Patient Safety "best practices"
Reinforce seasonal health messages and wellness programs
Where Digital Screens can go:
Lobbies and elevator banks
Check-in, registration and waiting room
Primary care
Emergency rooms
Specialty Services
Walk-in services
Cafeterias
Donor recognition
Patient room
Employee workstations
A Powerful Way to Publish Actionable Employee Information
X-Factor's Corporate Communication Control Center (C4), improves employee engagement by encouraging interactive real-time communication. No matter what screen front-line staff, clinicians or employees are using, you can incorporate dynamic PowerPoint documents, live video and real-time RSS and XML feeds in order to provide customized informational applications on any display. Content can be "interactive content", allowing the user to embed clickable links to detailed information, launch a related video, or register for a class.
Broadcast Messages Enterprise-wide or By Department
Post real-time system downtime notifications with link to procedures improving safety and maximizing resources
Send training snippets of federal reform initiatives with an interactivity link to guidelines improving compliance
Distribute messages to promote integrated healthcare services and physician referrals enhancing patient access and quality
Alert Physicians to reduce leakage within the system increasing productivity and efficiency
Transfer real-time operational intelligence into key messages on admission rates, wait times and departmental spending
PRODUCTS
dscp:// DIGITAL SCREEN CONTROL PORTAL
ENTERPRISE DESKTOP
STOREFRONT & DMAX
MULTIMEDIA PLAYER
INTERACTIVE KIOSKS SERVICES
SERVICES
CREATIVE
MEDIA SERVICE BUREAU
WEBCASTING
For more information call 1 (877) 741-3727 or email sales@xpub.io.