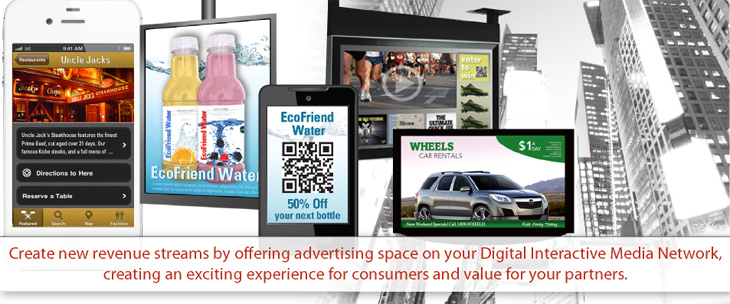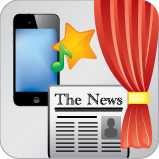 Advertising
Are you a public venue or digital signage network owner who would like to generate additional revenue and profits on your digital signage network and digital media initiatives? If so, X-Factor has the solution, dscp://storefront. dscp://storefront is a powerful new way to monetize your unused display inventory to generate additional revenue through advertising sales. dscp://storefront is a branded sales portal that supports cross channel advertising sales on digital signs, traditional mediums e.g. posters, banners and wraps, web and mobile devices, campaign fulfillment & analytics. Whether you are utilizing X-Factor's dscp:// Digital Screen Control Portal software or any other third party system, dscp://storefront enables you to increase your revenues today.
Whether it's one display screen or thousands, dscp://storefront complements X-Factor's dscp:// software service offerings to provide you with a seamless advertising sales capability. Have total control over your inventory and safeguard your brand while maximizing revenue and ROI in your venue and on your digital media and digital signage network investments. Capture new revenue by helping ad buyers get their message out to their target audiences. It is a winning solution for both the venue, digital signage and digital media network owner and the ad buyer.
MACC: Marketing and Advertising Control Center
X-Factor is a leader in developing and supporting software-driven solutions for venue owners, brands and their agencies, and digital signage network owners whose footprint can be monetized by providing "ad space" for internal and third-party advertisers. Our MACC solution brings together the X-Factor dmcp:// platform and specific products, making it possible to transform a digital signage network into a revenue stream (by selling "ad and marketing space" to third-party advertisers) or using your own "digital real estate" to creatively and effective promote your own goods and services.
MACC enables brands and their agencies to deliver consistent, timely multimedia messaging that helps engage customers and staff, drive sales and build presence.
X-Factor's MACC solutions take advantage of an SaaS delivery model through which you lease the applications and infrastructure that drive your content delivery. X-Factor digital media service bureau monitors, manages and provides technical support for the complete solution, and our creative team helps invent and produce high-impact design and user experiences.