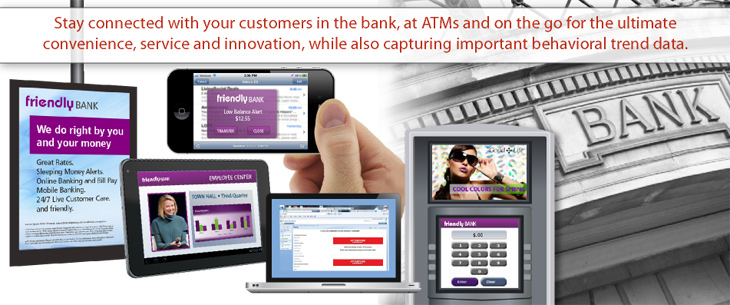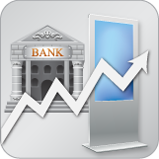 Financial Services
X-Factor's dmcp:// platform and its related signage, advertising and corporate communications products together offer a rich array of solutions for the financial services industry.
Whether we are deploying digital signage in bank branches, adding compelling and revenue-driving advertising displays in banking locations, in the branches or in other public locations, or providing internal communications solutions through C4, we are making it easier, less expensive, and more exciting for financial institutions to communicate with their audiences.
Digital content can be presented to consumers promoting additional bank products and services, while also educating those consumers - an important aspect of compliance associated with regulations and best practices. Cross selling checking account holders, for example, to open a saving account, refinance their mortgage, apply for a credit line, or take advantage of new mobile banking applications, is vivid and engaging when presented on high definition screens.
The costs of designing, printing, shipping, and maintaining physical signs, and the requirement to keep those signs current, can drop to zero once a digital interactive network is established.
Interactions allow financial institutions to learn in real-time what consumers are interested in, whether those consumers are touching screens, engaging via mobile applications to learn more, or even to take satisfaction surveys.
Local banks can offer advertising space to merchants, even free advertising for business banking customers, promoting local shops, restaurants, and attractions. Community service is another exciting opportunity as bank branches can advertise local charity fundraisers and celebrate community leadership.
For communicating with employees, X-Factor's Corporate Communications Control Center (C4) enables centralized and decentralized distribution of training sessions, important compliance information, company updates, advisories and emergency messaging and more. Employees in all varieties of financial institutions - whether insurance companies, investment banks, commercial banks, brokerages and more - benefit when their communications and IT teams can more easily, efficiently and beautifully transmit information - including live webcasts, archived multimedia content, and critical real-time alerts.