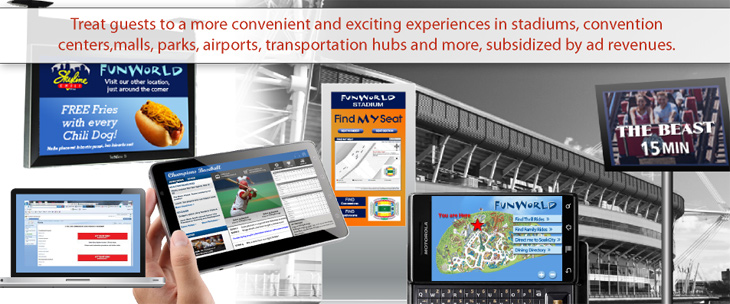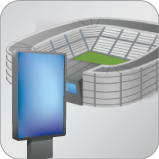 Public Venues
X-Factor's digital interactive networks for public venues are entertaining -- and efficient. Working with our partners, we help engineer and implement digital displays including media walls, interactive kiosks, wayfinding with interactive maps, and more.
Stadiums, concert halls, sports arenas, community centers and other large venues attract massive crowds, and the ability to help manage that crowd (including advisories and emergency alerts) as well as engage and cater to that crowd (with mobile applications, dynamic advertising, games, contests and digital donation opportunities) creates a communications mix that makes sense to public venue operators - and helps them make money.
X-Factor's dmcp:// platform delivers multimedia content to signs and kiosks throughout large facilities, with the ultimate in control and management. Our array of templates makes it easy for communications managers to develop internal advertising - or to publish national brand advertising for targeted events, reaching very specific audiences who are in the venue because they are passionate about their favorite teams or performers.
Given the constant change of events within public venues, having the ability to rapidly change out the creative (compared to the challenge of having to print, mount, and then dismount traditional signs) means more excitement for visitors, more powerful internal advertising from the venue - future events, internal shops, concessions, and more - and high conversion advertising for third parties, whether national brands or local bars and restaurants.
Because X-Factor supports interactive kiosks, with touch-screen capabilities and mobile applications, our platform also collects and reports on user interactions, trends and conversions with mobile synchronization (SMS, couponing) and more. The creative possibilities are limitless, and X-Factor's Digital Media Services Bureau and Creative Services teams can help customize and produce powerful programs from day one.