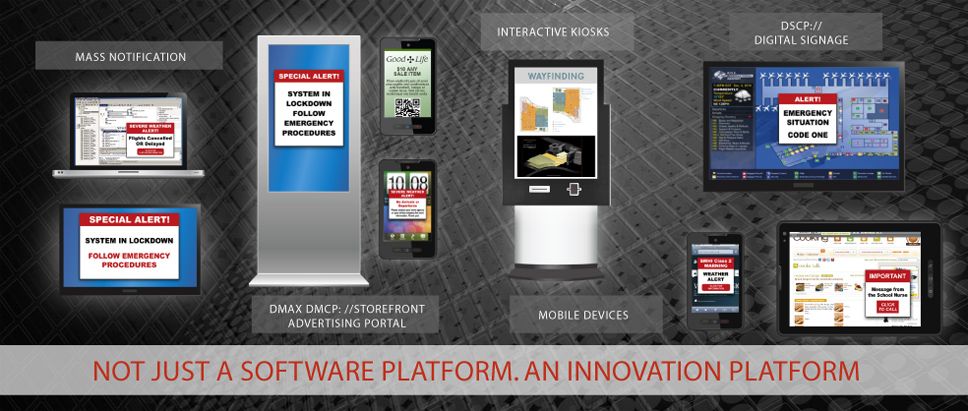 DSCP - Digital Screen Control Portal
X-Factor's easy-to-use flagship application, Digital Screen Control Portal (DSCP://), is a unique, interactive real-time digital media communications and broadcast platform delivering single point publishing of emergency mass notifications, alerts and rich informational content to any IP endpoint/device. This powerful platform also supports advertising distribution and sales as well as strategic marketing campaigns.
Our latest release 4.0 incorporates HTML5, making it possible to publish urgent information to mobile phones, tablets, smart phones, SharePoint, desktops, kiosks, digital signs, intranet sites and telephones. Based on the selected Mass Notification profile, the content of the alert automatically gets sent via email, SMS text messaging and live phone call with text-to-speech conversion to all intended recipients.
The DSCP platform is designed for non-technical users and can be acquired as a subscription or purchased license and delivered either as a software-as-a-service ("SaaS") or from your premise-based physical or virtual server. Originally developed for the digital signage industry, this fourth generation product delivers robust messaging capabilities right to your fingertips. With an array of software solutions, the centrally managed messages can instantly be seen on any device across your organization, and beyond.
The DSCP platform provides easy to use alert and digital media publishing to any device, players and Screen Savers with links to SharePoint / Intranet pages, browser based corporate applications and streaming media, driving corporate information usage. In addition, the DSCP platform provides enhanced Intranet collaboration capabilities including links to streaming media, web collaboration and corporate information systems.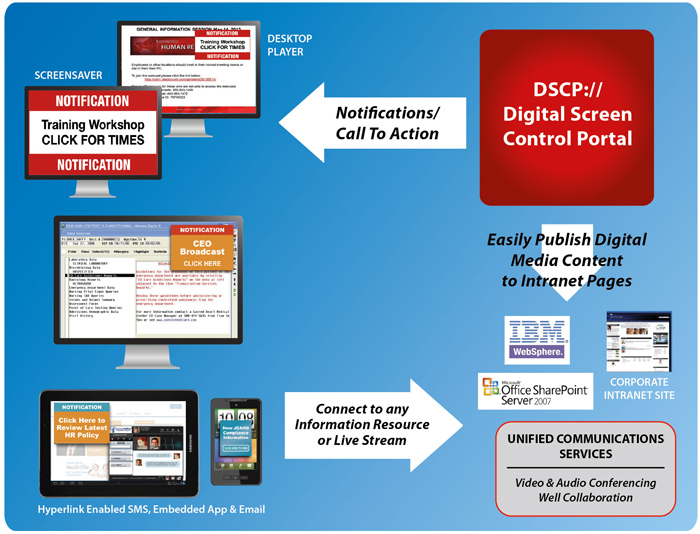 Market Leading Functionality
Any Device - HTML5 based platform enabling real-time emergency alerts to be delivered to any connected endpoint.
Mass Notification - Extend the reach of emergency alerts from digital signs, desktops, and websites to email, pagers, text messages and live phone calls using text-to-speech conversion technology - all from a single console.
Interactive Content - Embed clickable and objects within any message or alert soliciting feedback or linking to intranet content.
Alert Agent - Scheduled content can be superseded with emergency alerts on the entire system or, if you prefer, to targeted regions.
Advanced Scheduling - Intuitive calendar interface ensures that you send the right message, to the right audience, at the right time.
Multiple Levels of Security - Users can summon and receive help in all levels of urgency - from low level to high and the signage platform can be configured to monitor any data source for specific conditions including weather or homeland security.
MultiView Monitoring - Monitor all content from a central location, multiple distributed locations or from a mobile device.
Content Creation - Easily incorporate PowerPoint, websites, live video and real-time RSS and XML feeds to provide customized informational applications, news and weather on any display.
Hierarchy Control - Secure login with name and permission based access control using pre-set and or customizable user rights.
PRODUCTS
dscp:// DIGITAL SCREEN CONTROL PORTAL
ENTERPRISE DESKTOP
STOREFRONT & DMAX
MULTIMEDIA PLAYER
INTERACTIVE KIOSKS SERVICES
SERVICES
CREATIVE
MEDIA SERVICE BUREAU
WEBCASTING
For more information call 1 (877) 741-3727 or email sales@xpub.io.