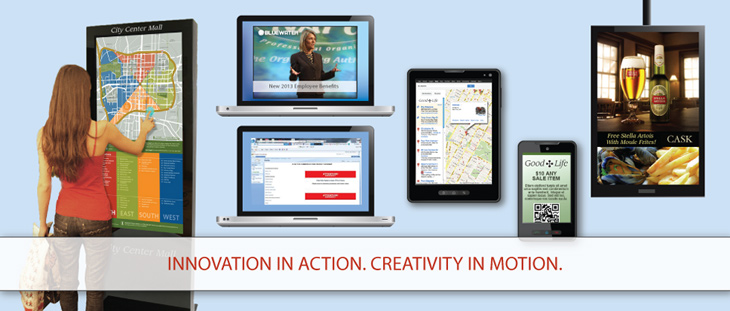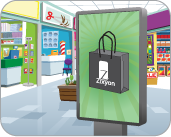 Digital Out Of Home Advertising
Participate in the age of digital immersive marketing
X-Factor's dmcp:// platform makes it easy to deliver and measure targeted, location-based, interactive experiences. Because our products make it possible to create, publish, distribute and manage messages going out to the "end-points" on the digital networks we build for our clients, incorporating ad space which can be monetized is a winning formula for those clients who generate positive ROI's on their digital signage and kiosk investments.
For advertisers, being able to strategically place the right ads at the right time in the right place with timely messages means higher conversion rates and more data on effectiveness.
Advertisers can switch up creative depending on trends, and adjust offers to convert the maximum number of prospects and customers - building loyalty, offering value, and entertaining while selling in context.
Our location-based capabilities are related to our digital signage core offering (multimedia ad delivery, whether static, dynamic, animated, video or touch-screen interactive) and can be easily synchronized with mobile and social applications including Facebook, Foursquare, Shopkick as well as social networking.
X-Factor offers digital signage through its dscp:// platform which is complementary with our advertising products, STOREFRONT (single network approach) and DMAX (multiple network approach, as digital advertising exchange).
Our powerful and scalable multi-channel location­-based digital media management platform capabilities are flexible and therefore adaptive to meet the most demanding customer requirements, creative brand and agency needs.
Because we work with the world's finest network service and equipment providers, our clients know that our Digital Out of Home networks are robust, with software that assures the ads are running, and analytics that report on consumer actions and conversions.
Because our applications are extremely open and intuitive, ad managers can easily post their campaigns, and groom them based on the information X-Factor's software provides.
With our partners, X-Factor can accommodate a range of tactical solutions to deliver advertiser messages to the venues and mediums that meet the strategy, target audiences and campaign objectives, effectively and efficiently - without limitations given our open architecture that outperforms legacy solutions.