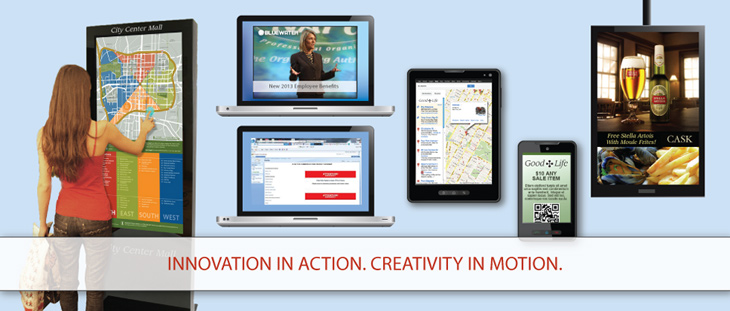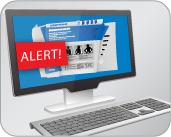 Enterprise Desktop
While employees typically have access to a wealth of internal corporate information, due to the demands on their time, they often do not take the time to look for information unless it is related to a topic that they are specifically interested in. The Enterprise Desktop application allows users to create eye-catching, visual representations of messages and emergency alerts making internal and external communication more engaging and your employees and visitors more likely to take action.
X-Factor's Enterprise Desktop application delivers content to your employee community in a multitude of ways that are nearly impossible for your employees to miss including.
Screensaver runs on any workstation presenting content in screensaver mode and can be configured to lock (require password) upon deactivation in order to comply with company security policy.
Desktop Player turns all desktops into interactive digital signs allowing for a "one click" hot-link access to connect to any live, web or media content. It is an easy way to connect employees or visitors to company events, intranet site or application portal.
Web Plug-In is used for extending content managed within DSCP platform to internal and external websites, most often for SharePoint, application portal logon screens, and other intranet sites.
Mass Notification Connector recognizes the need for rapid dissemination of alert messaging during an emergency. Typically, an alert will be seen on any screen within 10 seconds. The alerts can be extended to far reaching audiences via email, text messaging or text to speech conversion.
Mulitview Monitor allows for mobile monitoring of all channels, from any web connected device allowing the administrator to see exactly what content and advisories are being seen by your employees, regardless of their location or workgroup.
X-Factor's Enterprise Desktop application tightly integrates with corporate intranets via the optional clickable content feature. Whether in screensaver mode or seeing content within the desktop player, a user simply clicks "here" for more information on any particular subject. The possibilities are endless. A snippet of a policy can be presented with a "click here for more information" link that takes the viewer to the full policy on the intranet. A system downtime notification can be posted with a link to downtime procedures. An internal customer service statistic can be displayed with a link to a satisfaction survey, or an employee event can be advertised with a link to full details of the event.
Use Cases
Broadcast emergency notifications to all devices from one console
Direct employees and visitors with interactive wayfinding to navigate campus
Broadcast IS security awareness content
Display CEO messages and company news
Announce Human Resource information and changes to employee benefit plans
Display compliance and regulatory training, tips and best practices
Train employees using interactive videos, real-time RSS and XML feeds
Display real-time company metrics reinforcing company targets
Recognize employee successes and share employee generated news
Update employees on product and service introductions and promotions
Reinforce seasonal health messages and wellness programs
Display events and daily meetings
Inform, monitor and display social media news, trends and customer postings
For more information call 1 (877) 741-3727 or email sales@xpub.io.