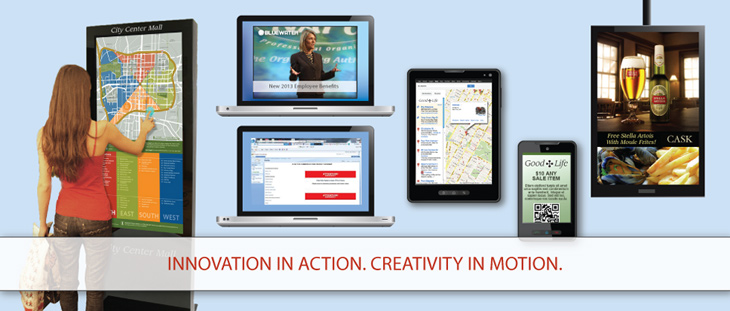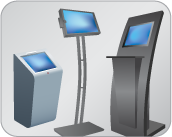 Kiosks, Touch Screens & Tablets
Engage with consumers where they live, work and play
X-Factor works with the world's leading Kiosks, Touchscreen and Tablet manufacturers and technology partners ensuring that content is reaching each end-point and displaying perfectly. Our "remote agents" allow for ongoing visibility into the network itself, as well as the content flowing over that network, and the interactions consumers are enjoying.
Our latest release 4.0 incorporates HTML5, making it possible to publish urgent information to mobile phones, tablets, smart phones, SharePoint, desktops, kiosks, digital signs, intranet sites and telephones. These innovative interactive solutions provide users with direct real-time connection to information such as directions, products and services.
X-Factor's software approach also allows for the collection of valuable information and trends, particularly important to advertisers and marketers, and is a key element in driving revenue through ad sales to offset the cost of building and maintaining kiosks services as a convenience to consumers.
PRODUCTS
dscp:// DIGITAL SCREEN CONTROL PORTAL
ENTERPRISE DESKTOP
STOREFRONT & DMAX
MULTIMEDIA PLAYER
INTERACTIVE KIOSKS SERVICES
SERVICES
CREATIVE
MEDIA SERVICE BUREAU
WEBCASTING
For more information call 1 (877) 741-3727 or email sales@xpub.io.