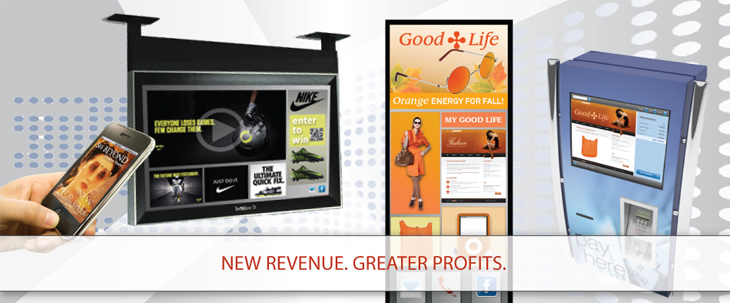 Storefront & DMAX Advertising Portals
Are you a public venue, digital signage network provider or owner who would like to generate additional revenue and profits on your digital signage network investment? If so, adding X-Factor's Storefront can enable you to increase revenues and ROI by selling third party advertising.
Powerful Control. Easy to Use.
If you are already utilizing X-Factor's Digital Screen Control Portal (dscp://)software, you now have an option to simply and easily support advertising sales and the associated workflow on your digital signage network through our Storefront offering.
Powerful sales and workdlow features listed here are fully supported giving you ease of use along with powerful revenue generating capabilities.
Scalability and Flexibility
Whether it's one display screen or thousands, Storefront complements X-Factor's dscp:// software service offerings to provide you with a powerful advertising sales capability.
Maximize your ROI
Have total control over your inventory and safeguard your brand while maximizing ROI on your digital signage network investment. Capture new revenue by helping ad buyers get their message out to their target audiences. It is a winning solution for both the network owner and the ad buyer.
Select Features
Inventory Posting: Post your available inventory, audience attributes and set your price. Once a bid is accepted or purchase is made and the content is approved by you, ads can easily run on your digital signage network.
Offer Review: View pending offers and bids, and you can approve or reject any offer or buy request...it's all under your control.
Content Review: Network providers can review all offers and can approve or reject any content submitted by the ad buyer.
Payment: invoicing, Third party payment gateways including (Paypal) and credit card transaction platforms are seamlessly supported and integrated for quick transactions.
Workflow: Complementary workflow between dscp:// software and dscp://Storefront. Accept an offer, schedule the ad and the ad will play...collect the revenue.
Account Reconciliation Reporting: Full reporting of transactions and payments between your customers and you.
Reporting: View Real Time Status of content approvals, estimated charges, proof of play reports.