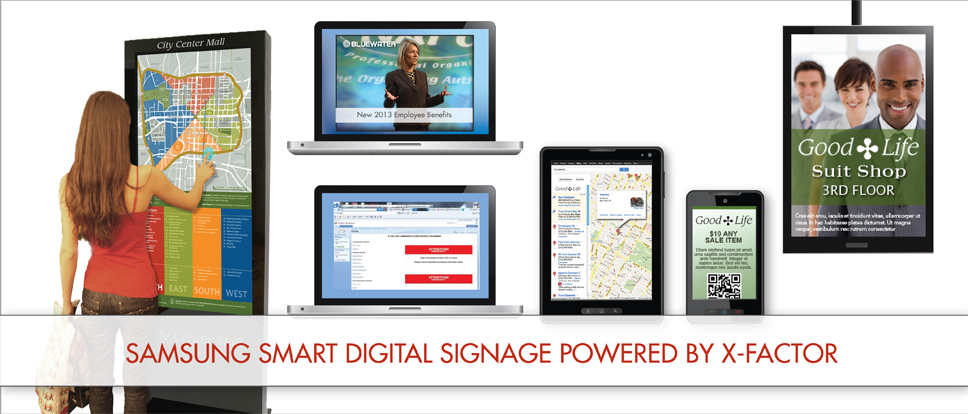 Samsung SMART Digital Signage Powered by X-Factor
Summary
Easy Automated installation and provisioning for sales channel support.
Easy to use, full featured CMS for non technical users with hierarchical control through roles and permissions
Vertical market focused solutions for corporate communications and marketing / advertising applications
Full screen and multi-zone content support for TV Tuner, Video, HTML5, Images and RSS (Local cashing for higher performance)
Cloud (SaaS) subscription or on premises license purchase options
Robust device control and monitoring
Control digital signage content from the SSSP remote in Slideshow Mode
Integration with Samsung Network Printers, Smartphones, Tablets and Notebooks
Robust feature set supporting any HTML5 device with media distribution for Signage, Desktop, Mobile, Intranet applications e.g. SharePoint
Actionable Emergency notifications and alerts

Out of the box, ready to install
Samsung SMART signage platform powered by X-Factor offers a powerful streamlined solution that reduces the total cost of ownership for digital signage network deployments, providing savings in hardware, installation and operating costs for seamless content delivery with lower TCO. X-Factor's Digital Screen Control Portal (DSCP) Content Management System includes a library of backgrounds and templates, so you can start creating content quickly and easily. Featuring quick set-up and powerful web-based device control, X-Factor delivers a powerful digital signage solution fast.
---

Robust Device Control and Monitoring
Whether for one or one-thousand screens, X-Factor's robust web-based device control for Samsung Smart Signage Platform allows for the easy control of many functions including, screen on/off, rebooting, digital signage, TV channel changing, volume, enabling an entire network of screens to be completely controlled from one easy-to-use web based interface. Monitoring features include network health metrics, screen status and more. In addition, email and SMS alerts can be set up to alert administrators of any issues.
---

Control Digital Signage from the Remote
Right from the Samsung remote, control digital signage content and TV channels. Using X-Factor's PowerPoint conversion feature, you can upload a PowerPoint, turn it into a digital signage playlist, use it as standard signage content or control the content in slideshow mode (forward, back, pause) right from the Samsung remote.
---

Include and Control TV Signal in Digital Signage
Include a TV signal right in your digital signage content signs, with TV channel changing and volume capabilities. Switch back and forth from full TV to digital signage using the remote control or from a web-based device control. This useful and flexible feature enables the monetization of sporting events, news channels and other TV programming.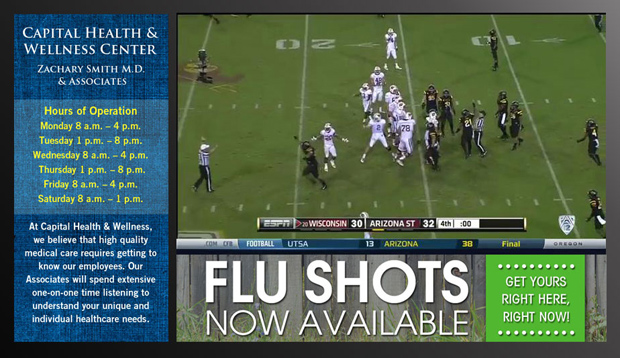 ---

Scalable Customized Solutions
The X-Factor Digital Screen Control Portal (DSCP) platform is extremely scalable and built to support large scale digital signage networks, enabling high-resolution experiences in real-time, published to and managed both centrally (nationally and globally) and locally (supporting local/regional content contribution). The X-Factor & Samsung Smart Signage Platform solution is a cost effective, powerful, scalable digital signage solution.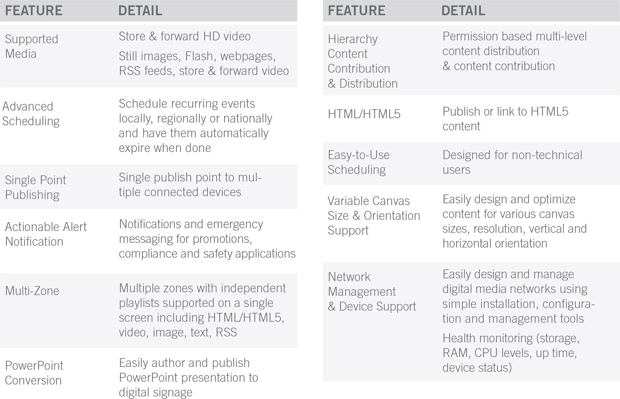 ---

Integration with Samsung Network Printers, Smartphones, Tablets and Notebooks
Print coupons and information from the TV remote (one click)
Send actionable alerts to Displays, Smartphones, Tablets, Notebooks and Desktops
Built in Touch support (Next SSSP Version)